The Gospel Training Community is a community-supported ministry.  If you'd like to partner with us by giving, you can now give online through Cash App. If you are a Cash App user, you can scan the QR code below and it will bring up our Cash App account. You can also give directly in the app using our handle: $GTCRedding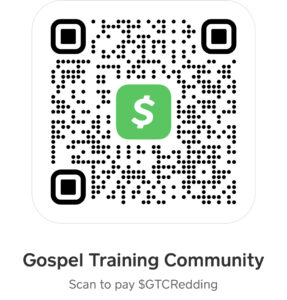 * For tax deductions for your giving please make checks out to "The Gospel Training Community". We cannot offer tax deductible giving online at this point.
For more information please email admin@gospeltrainingcommunity.org.